Audiologist vs. Hearing Instrument Specialist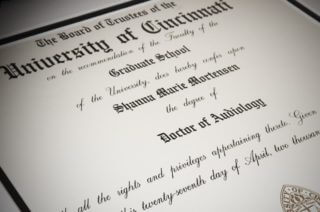 People often wonder, what is an audiologist? And what's the difference between an audiologist, a hearing aid dealer, and a hearing aid dispenser? Through the years, there has been a lot of consumer confusion and controversy over professional roles in diagnosing and treating hearing loss.
It is still common for someone to get their hearing screened, or fitted for a hearing device and still not know if that person they were seeing has an education in what they are doing.
It is not uncommon to have consumers dissatisfied with their hearing aid fittings and schedule a second opinion with someone else, only to find out the person they purchased their device from is not an audiologist.
An audiologist and a hearing aid dispenser can both obtain the appropriate state hearing aid sales license. But only those who have achieved the highest educational standards and certification can call themselves an audiologist.
Is an Audiologist a Doctor?
A lot of audiologists have their doctorate degrees in audiology and some have masters level degrees in hearing healthcare. Prior to 2007 a masters degree was required to become an audiologist. Since then It became necessary to increase the academic and clinical training requirements from a master's degree to a professional doctorate for entry into the profession. Master's level academic programs no longer exist.
Doctors of Audiology go to school for 8 years to obtain a clinical doctorate in Audiology. They undergo extensive medical training while in their doctoral program, however, they do not undergo full medical training like a medical doctor would. The focus of the doctorate degree is specifically in the anatomy of the ear, hearing loss, hearing loss treatment, and hearing related disorders.
Doctors of Audiology are allowed to work with all age groups and usually work together with Ear, Nose, and Throat Physicians to treat hearing disorders.
How do I know if my Audiologist is a Doctor?
You will know if your audiologist is a Doctor of Audiology if you see the credentials Au.D. after their name.
What is a Hearing Instrument Specialist?
A Hearing Instrument Specialist is only required to have a high school diploma or GED and some basic observation hours with another hearing instrument specialist to be licensed to sell hearing aids. In most cases, these specialists have no college-level education or clinical hours in hearing loss and they are not healthcare providers, however, they have the training necessary to be able to do basic hearing testing and fit hearing devices.
Does my Audiologist need to be a Doctor?
That's for you to decide. Masters level audiologists will have 6 years of education and Doctors of Audiology will have 8. Just because one has a bit more education than the other doesn't necessarily mean they will be better. They are both highly educated in hearing loss. AuD's have more formal education, therefore, could possibly diagnose or treat more types of hearing loss.
Should I see an Audiologist?
If you are wondering if seeing an audiologist is right for you, consider this…
Do you value education and training from your healthcare providers?
Do you want the best possible chance of having a successful outcome with your hearing loss and hearing aid fitting?
If you answered yes to either of these questions then seeing an audiologist is right for you. Book an appointment with a Happy Ears Audiologist at one of our hearing center locations today.