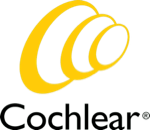 Cochlear implants have helped over 450,000 people hear. Dr. Graeme Clark knows that feeling more than anyone else. After watching his father struggle with deafness his whole life, Dr. Clark vowed to do what many in the scientific and medical communities said was impossible. In 1978, he proved all the experts wrong when he gave Rod Saunders the world's first multi-channel Cochlear implant. And the miracle of hearing.
That groundbreaking day made history. It also made it possible for thousands of people to hear their children, their friends, and families. Today, as the global leader in hearing implant technology, Cochlear continues to invest in research and development to advance hearing technology.
With the advanced smartphone to hearing device technology of today, Cochlear implants are instrumental in helping patients with hearing and vision loss regain mobility and confidence again.