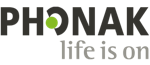 Phonak hearing aids have been a leader in the industry for quality and function. They not only allow you to hear but also understand better in practically every situation, no matter how challenging.
Now available, the world's first rechargeable waterproof hearing aid with activity tracking technology. For individuals with hearing loss, you no longer have to worry about not being able to hear your friends in the pool or during water activities. The new Phonak Audeo Life hearing aid is game changing for those with hearing loss. 
Schedule an appointment with one of our expert Audiologists. We can help find a Phonak product that is right for you. At Happy Ears, we believe hearing aids AND services should be affordable to everyone. Happy Ears Hearing Center is dedicated to making hearing aids and services more affordable while maintaining the best quality hearing care. Happy Ears Hearing Center is proud to partner with Phonak to help drive that vision.