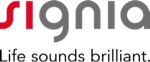 Siemens Signia hearing aids significantly reduce hearing effort throughout the day for hearing impaired people by highlighting speech in a wide variety of listening situations. The new dedicated music programs take music enjoyment to a whole new level and will satisfy even professional musicians. Call today to try a pair of Signia hearing aids!
Siemens Signia hearing aids have been the market for a long time. The good reputation of Siemens hearing products is backed by numerous positive reviews and feedback from the buyers. Today various types of hearing aids are available for people with hearing loss (from mild to severe) and other hearing problems.
Finding a high-quality hearing aid product is always a challenge. Finding a high-quality hearing product at a reasonable price is always a pain. However, we did our best to save you time and effort.