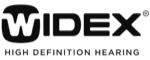 Widex hearing aids drastically improve your hearing. Widex is well-known for being a high-quality hearing aid manufacturer. The new Widex Moment hearing aids are compatible with iPhone devices and enhance your listening experience. If you are an experienced user, you will hear the difference on the spot. And if you are a first time user, then get ready to start hearing many of the sounds you have been missing.
Widex hearing aids allow more sound in than any other hearing aid so you can hear more details of the world around you – and in a way that's as true-to-life as technology allows. Even in noisy environments such as parties, sports events or at the cinema.
And thanks to unique technology that preserves the human voice, you can also hear more words – for instance, enjoy conversations, even in the noise of a crowded restaurant or at a concert hall.